Innovation2Commercialisation: Branding and Marketing for Innovation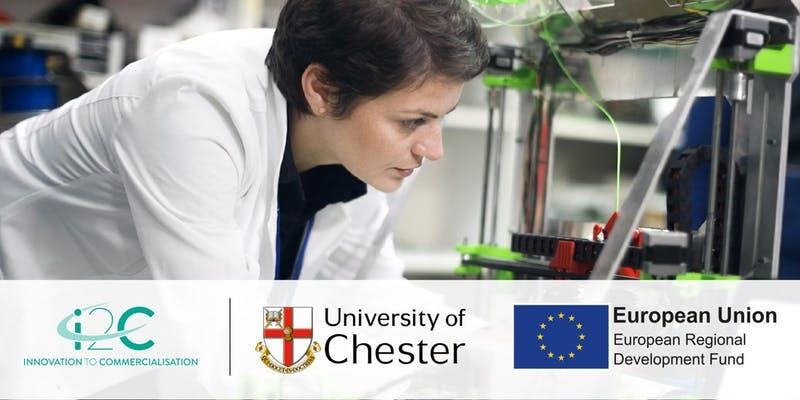 Date and Time: 16th May 2019
Location: Thornton Science Park, CH2 4NU
Cost:  Fully Funded
These workshops are for Innovation2Commercialisation (I2C) Project Members – if you are not yet registered to the fully funded I2C Project you can still apply for tickets with the below as a 'non-member' and you will be contacted to check your eligibility to register for the project. For any queries please email: businessgrowth@chester.ac.uk
Description
Designed to equip entrepreneurs and SMEs with the skills needed to develop the branding and marketing for a new product. This session covers:
The Basics
Great Idea – what does it do?
Business Value Proposition?
Who is going to buy it? Mapping Features, Benefits, Value to Customer needs, wants, demands, alternatives. Innovation Gap
Supply Chain – How do you resource? Who will make it? Deliver it? Buy, build, partner
Market Research – Competition, trends, market sizing
Commercialisation strategy
Branding
Branding.
Why are we doing this?
How are we doing this?
What are we making/selling?
What is the value chain?
What is the business Ethos?
How do we leverage and differentiate?
What makes us different!
Sales and Marketing – Go To Market Strategy
Routes to market.
How to sell and to whom.
Clear message.
Marketing tools – Websites, e-mail, social media etc.
Building databases
GDPR revisited
By individual agreement, the I2C Project may support additional 1 to 1 support for Branding and Marketing.
Please register your interest here
Alternatively please contact Jim Colston
j.colston@chester.ac.uk
tel – 01244 512381
mobile – 07557 812592